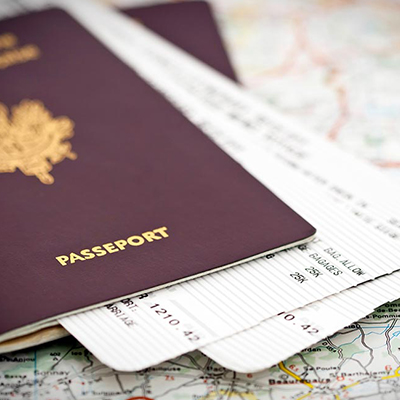 The United States is very welcoming to foreign citizens who wish to study in the United States, whether as an exchange student or for your entire undergraduate degree. This doesn't mean that you can just walk into the United States, however. There are a few things that you need to do in order to enter the United States as an international student.
Before you even get started with the process of applying for a visa, you should be accepted into your college program. Unlike other countries, you need to be accepted to the university before you can apply for your visa (some countries require you to have a visa before you can apply to a university). To learn more, see the EducationUSA website and contact a Student Advising Center or review the Exchanges program website. They can give you the information you need about applying for your visa.
Types of Visas
There are two major types of visas for those who plan to study in the United States; the F-1 Visa or the M-1 Visa. Here's a quick look at each of them.
F-1 Visa – Most students who go to the United States for university will go on what is called an F-1 Visa. This visa is for students who are in elementary school, secondary school, seminary, conservatory, academic institutions, language training programs, university, and/or college.
M-1 Visa – These visas are for those who are attending vocational schools, or other recognized non-academic program.
There are no exceptions to this, either; even if you are part of the Visa Waiver Program (VWP) program or have a Visitor "B" Visa, you cannot study in the United States for an extended period of time unless you are taking a short class as part of tourism (and not toward a degree). You must have a F-1 or M-1 visa in order to attend the United States university which you were accepted to.
Applying for a Visa
You have to follow several certain steps in order to apply for a visa. You can check out the particular steps that students from your home country have to follow from the United States Embassy located in your country. If you do not know how to contact them, take a look at the U.S. Embassy website and find your closest Embassy.
Next, you will have to go through an interview process if you are between the ages of 14 and 79. The consular officers at the Embassy will perform the interview. If you are concerned about the amount of time necessary, check out the U.S. Embassy FAQ page about wait times. These can change, so make sure you apply early. You can have your visa issued up to 120 days before you start your coursework, but you cannot enter the United States until approximately a month prior to that date.
Other Documentation
There will be some documentation that you will need to take with you when you attend your visa interview. Here are some of the items that you should have with you at that point.
Passport valid for travel to the U. S. – Your passport must be valid for at least six months beyond your period of stay in the U. S. (unless exempt by country-specific agreements).
There is an online application, known as the Online Nonimmigrant Visa Application, Form DS-160. Complete this and print it out when you go to the interview. You will also have to pay a fee and upload a photo.
Certificate of Eligibility for Nonimmigrant (F-1) Student Status-For Academic and Language Students, Form I-20A-B or Certificate of Eligibility for Nonimmigrant (M-1) Student Status for Vocational Students, Form I-20M-N– Your university will send you the appropriate forms and let you know which of these that you have to submit at your visa interview.
Proof of your academic progress. This can include any secondary schooling degrees and anything that you may need for postgraduate work.
Your intent to depart the U.S. upon completion of the course of study. This is usually paperwork that you need to sign that states you will leave the country after you have finished schoolwork. This is only necessary if you live in a country that has an excess of immigrants in the United States currently.
How you will pay all educational, living and travel costs. This is also dependent on the country that you live in.
The United States Embassy and your university will tell you which of these you will have to bring to your interview; many of them are dependent on the country that you currently reside in. Please remember, just because you are given an interview does not guarantee that you will be given a visa. If you come across any issues during your interview process that bar you from getting a visa, you can reapply and have another interview if you need to.
The United States has some of the strictest immigration and visa laws in the world, but as long as you do research and go through all of the necessary hoops in order to obtain your student visa, it's not as difficult as it looks. The professionals at the international student organization at your university have worked with hundreds of students who wish to attend your university, so they can help you get through the system without dealing with a lot of headache. Make sure that you communicate well, and you should get through the system with no problems.