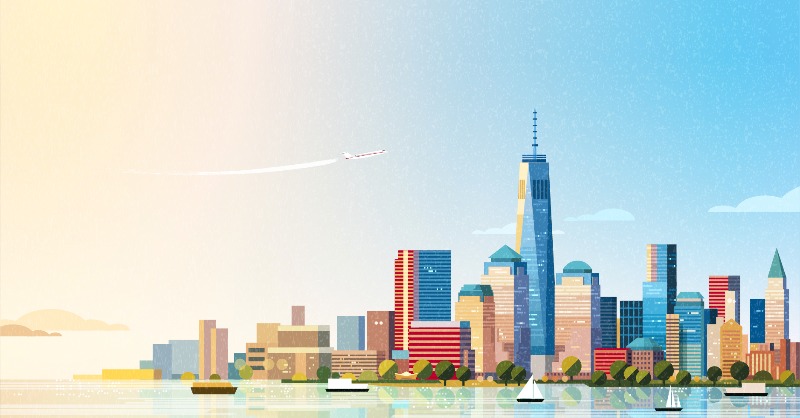 The U.S. is a magical door to all the international students who come to pursue their studies in one of the universities or colleges here. While making plans for traveling around the metropolitan cities of the U.S. is one step, having a travel guide is definitely the most important one. This article includes information on travel checklists, sorts of accommodation, and visa types required in the U.S. while studying and after graduation, among others. Additionally, this article will create a file inside your brain with significant characteristics of U.S. culture and other facts on studying abroad. By taking a look at all of the sections below, you'll be ready to travel to the United States.
Traveler Checklist
As an international student with a huge planning travel itinerary around the U.S., you would want to consider some essential points of the travel checklist. These essential points that belong to the U.S. travel checklist are quite comprehensive since they will cover items of various categories. The type of the travel bag along with structure will predetermine the capacity of the things being stored and carried around. Therefore, one of the most important decisions is finding a versatile bag for a safe and comfortable trip.
After having picked the right bag for your destinations it's time to focus on organizing your personal possessions as neatly as possible. One of the best options to easily access the most usable things throughout your trip is to use backpacking organizers. Practically, compression sacs or packing cubes will reduce the volume of your clothes and leave you with bits of free space for other necessities.
The packing checklist is divided into seven sections:
Documents
Passport/Visa(s).
Student ID/Frequent Flyer Cards.
University offer letter.
Proof of accommodation.
Proof of financial resources.
Health insurance card.
Transportation tickets .
Copies of relevant documents such as passports, tickets, etc.
Boarding Pass.
Drivers Licence.
Travel Insurance.
Cash & Credit/ATM cards.
Hotel Loyalty/Hostel Membership Cards.
Reservations & Itineraries.
List of medications and prescription letters.
Toiletries
Toothbrush, paste & floss.
Comb/brush.
Deodorant/soap.
Skin care lotion/creams, SPF.
Shampoo & conditioner.
Toiletry kit.
Glasses & eyeglass case.
Scissors, nail clippers & tweezers.
Travel towel.
Travel bottle set.
Shaving kit.
Other hygiene products.
Clothes
Underwear.
Socks.
Shirts.
Jeans/trousers/shorts.
Jackets/coats/raincoats.
Scarves/hats/gloves.
Shoes/sneakers.
Flip-flops/slippers.
Sleepwear.
Everyday Basics
Sunglasses.
Travel footwear.
Umbrella.
Smartphone.
Charger.
Water Bottle.
Handkerchief.
Travel pillow/eye shade/ear plugs.
Tissues.
Camera, memory card & charger.
Dictionary.
Watch.
Music player.
Travel Aids
Travel locks.
Pens and paper.
Travel health information.
Maps and directions.
Itinerary.
Day bag & travel wallet.
Comfort & security items.
Dictionary.
Sunscreen/lip balm with SPF.
First aid kit.
Hand sanitizer.
Pain reliever.
Fever reducers.
Personal prescriptions.
Maintenance Items
Flashlight/headlamp.
Sewing kit.
Extra batteries
Clothing care kit.
Duct tape.
Home Checklist: Before You Leave:
Delay deliveries.
Arrange care of pets, lawn & plants.
Unplug appliances.
Empty refrigerator, dishwasher, electric range, etc.
Turn off heater/air conditioner/water heater.
Pay all the bills.
Lock valuable items in a safe place.
Inform the bank of any future use of a foreign credit card.
Student Visa Eligibility
To study in the US as an international student means that you will get the chance to travel either nationally or internationally. Depending on the course of study and the type of school you wish to attend, one of these two visas may fit your purpose:
F Visa. This will be applicable if you're attending a university or college, high school, private elementary school, seminary, conservatory, another academic institution including a language training program
M Visa. This will be applicable if you're attending a vocational or other recognized nonacademic institution, other than a language training program.
Here are the general entry requirements for entering the F-1 or M-1 visa category:
Be registered either in an academic education program, a vocational program or a language training program.
Be approved by the Student and Exchange Visitor Program, Immigration & Customs Enforcement.
Be enrolled as a full-time student at the institution.
Be proficient in English or be enrolled in courses leading to English proficiency.
Preserve a foreign residence that you have no intention of giving up.
Have necessary money for self-support for the duration of the proposed course of study.
After successfully completing the student visa application and having had the visa issued, you still need to make sure if your student visa is valid upon taking a temporary break in your studies. Such breaks may be for traveling internationally, for annual vacation, and for other purposes. One of the most optimal steps that will lead you to a smooth re-entry into the United States is to check in with your Designated School Official (DSO).
There are some specifications that should be strictly considered if you're planning to travel as an international student:
Check if your DSO signed your Form I-20, "Certificate of Eligibility for Nonimmigrant Student Status" within the last year.
Do not spend more than five months out of the nation.
Before you depart, make sure you have your DSO's most recent contact information, which should include both a daytime phone number at the school and a 24-hour emergency phone number.
In case you have a pending practical training application, traveling abroad would not be suggested. United States Citizenship and Immigration Services may send requests for evidence along with the Employment Authorization Document only to your U.S. address. Such documents are vital components to your re-entry.*
Upon arriving in the U.S. Ports of Entry the Customer and Border Protection officer will ask the purpose of your travel and also inspect these three important documents:
Passport.
Student visa.
From I-20.
If you are an M-1 student, you should also bring your most recent Form I-94, "Arrival/Departure Record," with you. Additionally, you needn't repay the I-901 SEVIS Fee to enter the United States after travel.
*For more information about traveling with pending applications, refer to ice.gov/sevis/travel website.
Find Accommodation
By deciding to study abroad in the US, international students now have to face the challenge of finding the appropriate accommodation, at an affordable cost. Some of the best experiences come from the living type one chooses, the living environment as well as offered conditions. There are different types of international student accommodation to choose from, starting from dormitories down to renting apartments in the student region. Living abroad offers a distinct benefit that students can take advantage of and enjoy.
As an international student, one of the second biggest steps after having chosen the college is finding accommodation. Choosing what type of room will fit your ambitions is usually determined by room availability and, inevitably, the budget for it. Many international students prefer the social atmosphere of shared accommodation since it helps them make friends in a new city. However, there are lots of options available whether you want to share a college dorm with other students, rent a private apartment with roommates, or find a home by yourself.
Here are three categories for living abroad as an international student which will include the setting and the general costs:
On-Campus Accommodation
One of the preferred options for students is the choice of staying on campus since this type of accommodation comes with a mountain of advantages. The proximity to academic buildings is the key reason for living on campus. Additionally, you are more likely to be punctual for your classes by living on-campus rather than in any other setting. It also ensures that the students are in a safe atmosphere. In a nutshell, here are some facts which should be pointed out for students who are indecisive about this living accommodation:
It is more welcoming, especially for international students who come for the first time in the U.S.
Depending on the availability and courses chosen, on-campus accommodation is provided in the form of dorms or resident halls.
A public four-year college's average room and board cost is $9,800 each academic year.
Likewise, even in a private four-year college, the average cost will be $11,000.
Off-Campus Accommodation
In cases when universities do not provide accommodation to international students, students are obligated to look outside the university. With the assistance of the universities, international students are able to find places to live throughout their studies. Private accommodations are always available and can offer you more independence. You can enjoy the privacy of your own bedroom while sharing the kitchen/bathroom/living space with your housemates, and you can also frequently take advantage of some very fantastic resident amenities, such as cafés. Here are a few key reasons that make this sort of accommodation appropriate for international students:
It is said to be the finest option for those who wish to get a deep look into American culture.
It familiarizes students with neighboring restaurants, shopping centers, and other utility needs.
The average cost of living in off-campus housing is roughly $600 per month.
It is also less expensive than dorms and residence halls on campus. However, the cost might vary greatly based on the location and the cost of living in that location.
Homestay Accommodation
Because of the cultural interchange between an international student or guest and a local individual or family in the host country, this type of lodging is highly popular. As international students live with local families they tend to feel more like they belong there since the setting itself will feel familiar to them. Universities of the U.S. will set up international students with well-mannered families who simply will give them a good experience. Some of the highlights for this type of accommodation are:
For undergraduate students above the age of 18, a homestay is a viable alternative.
The student is assigned a private room with all essential amenities.
It provides students with an opportunity to interact with American culture in a novel way.
The monthly cost of a homestay for a college student ranges from $700 to $1,000.
Transport in the US
International students are more likely to use transportation, whether they want to travel to a faraway area, travel a short distance from their residence, or for any other purpose. Traveling incurs costs, thus an international student should select the most cost-effective mode of transportation. In the United States, there are numerous modes of transportation available.
For example, public transportation in the U.S. covers a wide variety of transportation options that provide regular and continuous transportation to the public. Tourists, as well as international students, are eligible to use all the existing modes of transportation as locals do. If you're strolling around the U.S. by means of public transportation then you are automatically contributing to the reduction of air-polluting and traffic crashes. Additionally, this is rather recommended for a safe and sound trip, along with the benefit of spending less.
Here are just a few examples from which international students can choose:
Buses
This mode of transportation is quite extensive, whether you live on or off-campus, in a metropolis or a suburb, you will be able to travel around quickly and effortlessly. However, this public transportation option might not travel to some suburban areas or rural ones, therefore you will have to find other alternatives to get there. If you hold a student ID then you are more likely to pay less than the regular price of taking a trip to a certain destination. The estimated price of traveling within cities in the United States is $7 per person. On the national scale, you can choose the Greyhound bus since you are offered an inexpensive way to travel across the U.S., Mexico, and even Canada.
Bicycle
Moving around by bicycle is ideal for international students who are commuting every day to their campus or a local area. Biking is a real benefit to your health, you get to exercise your muscles and save your money. If you opt to travel by bike, make sure you wear a helmet and have read all of the rules and regulations for cycling. It is worth mentioning that most college campuses in the United States have a bike rack where students can safely store their bikes. Bike rentals are quite easy to find in the United States, and they are a relatively inexpensive means of transportation in the country. For example, Stanford University has a campus bike shop where students can rent a basic bike for $20 per day.
Trains and Subways
Studying abroad means finding the right mode of transportation that will meet your traveling expectations, be it the cost, the inside environment, or other personal preferences. When relocating to a large city, you should become acquainted with the subway system, as it will most likely be your primary mode of transportation. If you desire to go by train to another city or state, Amtrak is a national passenger railroad service that provides intercity service throughout the continental United States as well as to Ontario, Quebec, and British Columbia in Canada. Trains, on the other hand, are ideal for moving across the United States. They are slightly more expensive than taking the bus, but they are significantly faster.
Taxis
As an international student with a modest budget, traveling by taxi might not be beneficial to your wallet. In case you are traveling to destinations which are hardly reachable by foot, train, bicycle, bus, or other modes of transportation then getting a taxi might be the last option. Overall, taxis are expensive and ridesharing services such as Uber will transport you for a much lower fee. Keep in mind that it is safer to check your driver's ID card if it is not displayed.
Car Rental
Renting a car has its pros and cons. One of the best advantages of renting a car as an international student is the avoidance of burdens such as monthly payments, costly repairs, parking payments, and so on. For long weekend planning, renting a car in the United States is the ideal option. When it comes to affordable car rentals, the average cost of renting a car is $80. Volvo's International Student Program is one of these alternatives. You can choose a qualified vehicle from a local Volvo dealership, make a one-time payment, drive it while in school, and return it after you graduate.
Top Places to Visit in the US
The US is a huge mosaic that has multiple tesserae, each of these tesserae represents a unique state. Many major cities are filled with natural and concrete landmarks, in case you haven't put one of these places on your bucket list then be ready to do so!
Here are the top five states that every international student should visit:
New York
One of the most multicultural states in the world, New York surely should occupy a place on the bucket list. New York is the place to be, and why so? Well, you surely will feel as if you belong there. This state hosts the largest number of international students and you will be surrounded by people who are in the same season as you. Niagara Falls, Adirondack Park, Staten Island Ferry will leave you mesmerized. During the final period of exams, your agenda might be quite compressed but your desire to explore New York won't go away. You need to find an alternative through which you can compose both of it, study and quench the curiosity. The New York Public Library will definitely be your niche, there are many branches of this library – in Manhattan, Staten Islands, and the Bronx.
California
Besides being a great location for international students to study, California — also known as the Golden State — has an incredible mixture of cultures as it gathers a diverse population. Being home to the country's largest Mexican, Russian, Chinese, Indian, and Nigerian populations, you will be lucky to explore the outstanding flavors of the state. California is absolutely a dream state. During your vacation, the beaches in California will offer you enjoyable and qualitative times. If you're a nature lover then consider walking around the Yosemite National Park. You will be marveled by the majestic granite cliffs draped with voluminous waterfalls. San Francisco has a mysterious beauty when the afternoon light beams on the hillsides or fog flows in from the Pacific Ocean across the Golden Gate Bridge. Visitors are stunned by San Francisco's picture-perfect scenery, which includes the curves of Lombard Street, exquisite Victorian mansions, and breathtaking bay views.
Texas
There are many possibilities for traveling around Texas, starting from the San Antonio River Walk, The Sixth Floor Museum, the Kimbell Art Museum, and lots of magic spots that await international students. Metropolitan areas such as Houston, Austin, and Dallas provide a fascinating contrast to West Texas cities such as Amarillo and Lubbock, but each has its own personality and purpose for visitors. San Antonio, famous for the Alamo and the River Walk, as well as the neighboring Hill Country, should definitely be included in your itinerary. Exploring nature will benefit you at all costs, especially if you tour around Big Bend National Park. The Texas State Capitol in Austin is one of the greatest state legislatures in the U.S., a 308 feet tall landmark that will simply fascinate you.
Illinois
Illinois, located in the Midwest and home to Chicago, is the most culturally diverse state in the US. During your studies in the United States, you will be able to immerse yourself in several local industrial cities as well as the abundant natural riches of Illinois. There are interesting spots to explore all around the state, from an ancient Indian settlement at Cahokia Mounds to the calm Anderson Japanese Gardens in Rockford. In Springfield, you will get to visit the Lincoln Home National Historic Site, the Abraham Lincoln Presidential Library, Museum, Lincoln's Tomb, The Dana-Thomas House and, not to forget, Frank Lloyd Wright. Summer is a terrific time to visit Illinois, but the state's numerous cultural attractions and excellent shopping make it an enjoyable place to visit any time of year.
Massachusetts
This is undoubtedly the center of entertainment for college students; there are numerous possibilities for making the most of student break periods. Students can engage in affordable activities and even free ones. Regardless of the season, college students congregate on Boston Common. It's the ideal area for them to have fun with their pals, whether they're tossing a football, throwing a Frisbee, or simply relaxing from their reading. As one of the original 13 colonies, Massachusetts has more than its fair share of historic landmarks dating back to the pilgrim era. If you're wondering what exceptional spot you must see during your studies abroad, Stellwagen Bank National Marine Sanctuary will astound you with its several types of whales, as well as Atlantic white-sided dolphins, harbor porpoise, seals, and other marine life.
Budget-Friendly Activities
Living the student life surely comes with a lot of considerations, such as your budget, your schedule, your current health condition, and so forth. One of the crucial aspects to ensure great experiences is to meet your financial obligations and spend the leftovers on social activities.
Here are some of the most budget-friendly activities:
Visit museums.
Spend time outdoors.
Go hiking.
Host a potluck dinner.
Go to an aquarium or zoo.
Volunteer.
Cook tasty meals.
Culture and Customs
The United States is globally known as the "melting pot," even though this description conveys a more in-depth meaning. The culture of the U.S. is shaped by syncretizing the cultures of Native Americans, Latin Americans, Africans, and Asians. Studying in the U.S. like an international student will have you exposed to some uncommon customs and traditions.
Here are some aspects that define the culture of the U.S:
Style. Clothing styles differ according to social position, area, occupation, and climate. Clothing items associated with Americans include jeans, sneakers, baseball caps, cowboy hats, and boots.
Food. In its early history, Europeans and Native Americans affected American cuisine. Today, meals such as hamburgers, hot dogs, potato chips, macaroni and cheese, and meatloaf are often labeled as American.
Arts. The United States is largely regarded as a world leader in mass media output, including television and film. According to the US Department of Commerce, the US accounts for one-third of the global media and entertainment business.
Language. The well-known American "How are you?" is more of a casual greeting than a query. While "I'm OK, thank you," is an appropriate response, going into a 5-minute monologue about how your day has gone thus far is not.
Working During Studies
It's common knowledge that many of the international students who come to the U.S. with the purpose of studying also seek jobs. Above all, the primary reason why they work during their studies is to reduce the cost of education and also enrich the resume. There are some specific regulations that should be met in order for you to work in the U.S. while studying. In general, all employment is subject to adhering to the terms and conditions of your visa.
Employment Opportunities for F1 Visa Holders
After having approved the F1 student visa you will be authorized to enroll in US universities, colleges, high schools, language training programs, and other educational institutions. Accordingly, there are various limits for international students working in the United States. Students with F1 visas are normally permitted to work on their university's campus for up to 20 hours per week. You must ensure that you have had a fruitful talk about job opportunities with your designated school official since they are the appropriate reference for this topic.
Apart from the opportunity of working on-campus, international students can also work off-campus, engage in Optional Practical Training (OPT), Science, Technology, Engineering, and Mathematics (STEM) Optional Practical Training Extension, and Curricular Practical Training (CPT), through which they can get work experience and develop in-demand skills.
Working in the US After Graduation
After graduation, your chances of finding work are fairly good; all you need to do is convert your F1 student visa status to an H1B status with the support of a sponsoring US company. The H-1B visa allows the graduate student to live and work in the United States for a period of up to six years.
Employment-Related Visa Preference Categories
When it comes to applying for a visa, there are several employment-based categories of preference depending on a variety of characteristics, including your professional expertise and the country you are from.
Employment First Preference. Professionals with outstanding ability, such as world-renowned scientists and researchers, as well as athletes, academics, artists, and business executives, fall into this category.
Employment Second Preference. Professionals with advanced educational degrees, such as master's degrees, doctorates, and PhDs, fall into this category.
Employment Third Preference. The third category includes skilled employees and professionals with at least a bachelor's degree or two years of qualified job experience. This is the most prevalent category for H-1B visa applicants; as a result, it has a longer processing time, which might be four years or more.
Employment Fourth Preference. This type of immigrant is known as "certain special immigrants," and they obtain only 7.1 percent of all employment-based immigrant visas. This category includes immigrants who have done specific work for the US government and includes various subgroups such as NATO civilians, ministers of religion, former Panama Canal Company employees, and others.
Employment Fifth Preference. This category is for immigrants who want to put their money into new businesses in the United States.
Driving With an International License
Being an international student in the U.S. doesn't mean you can't drive with an international license, it's just that you will face some limitations and should follow them respectively.
Here are the listed requirements for being eligible to drive with a foreign license:
At the time of driving, you must be at least 18 years old.
The driving license should be issued in the English language.
A valid state-issued driver's license, a foreign driver's license, or an international driving permit is required. Licenses that have expired are not permitted.
You should be free of any medical issues that might render you unable to drive.
As a short-term visitor, the limit to drive with a foreign license is 3 months, after this period you must get the IDP or International Driving Permit.
You must obey all state driving rules and regulations .
Fun Facts About Studying in the US
Your ideas are appreciated. For example, history shows that the current flag of the United States was designed by Robert G Heft, a high school student.
Practice your English. Most of the international students have perfected their English studying in the U.S.
Prestigious degrees. Degrees from the United States have a high international reputation.
A welcoming nation. Openness and tolerance for diverse cultures are key personality traits cultivated from studying in the United States.
Modern study experience. U.S. universities are all about offering a modern classroom experience.
Outstanding social life. While studying in the U.S. the student social life gets more dynamic.