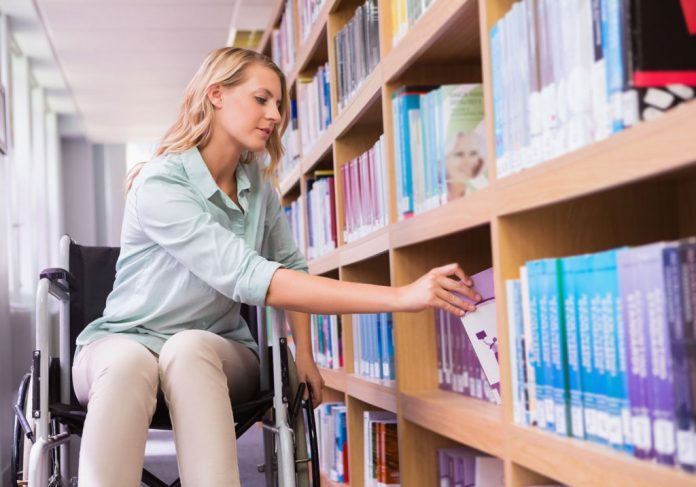 Although studying in US as a disabled student might be viewed as a challenge, the services and organizations around the US keep making sure that each student has full-access to university, regardless of their disabilities. The large number of colleges and universities do not discriminate against anyone based on their disabilities, making sure to provide the necessary accommodations in their courses, campus, and the activities that follow university enrollment.
What Studying in the US as a Disabled Student is Like
So, basically, what is essential to know if you are a disabled student in the US, is that the institution you have enrolled in is responsible to make the access to the college buildings, transportation, and housing as simple as possible for you. Some of the services the university will offer are:
Accessible classrooms, housing, labs, libraries, and transportation.
Information on requesting the needed accommodations, such as sign language interpreters, alternative formats, note-takers, added time on tests based on the disability, and more.
Refer you to community services, in case you're in need of a personal assistant, sighted guides, or personal aids (which the university does not offer).
Adaptive on-course activities.
Information on seeking counseling services for stress, anxiety, or depression.
Academic advising and consultations on the obstacles you might be facing.
What You Should Know as a Disabled Student in the US
In order to have all the adjustments you need, there are a few essential things you should keep in mind when studying in the US as a disabled person. Look through the following:
Your post-secondary school should provide the needed academic adjustments for you.
If the college or university offers housing, then it should offer comfortable and accessible housing for disabled students as well, with the same pricing.
Post-secondary schools can't deny admission simply on the basis of disability.
The school does not provide personal services such as personal assistants or readers for personal use.
If you need an academic adjustment, then you should inform the post-secondary school beforehand.
You should provide the college or university with the required documentation that proves your disability.
The Documentation You Need to Prove Your Disability
There is no cost to the academic accommodations you might need as a disabled student in the US However, it is important to know that the college or university you enrolled in might require documentation to prove your disability. In order for the accommodation to be arranged, the school might require the documentation before your arrival to campus.
International students are often asked to provide written reports or disability assessment by qualified diagnosticians. For example, the students who are blind or low vision, the school might ask for an up-to-date visual acuity test. Same for those who are deaf or hard-hearing, a recent audiogram should be provided. These reports should include the name and credentials of the diagnostician, as well as the date of testing.
Additionally, due to recent changes in the American with Disabilities Amendment Act, that restricts the tiring amount of documentation requirements, some post-secondary schools might merely observe or conduct an interview with the student, in order to arrange the accommodations.
Which are the Best Universities for Students with Disabilities in the U.S?
Qualified students cannot be denied admission due to their disability in the universities and schools of the United States. Post-secondary schools across the US have invested and worked hard in making education equally accessible to all.
All the colleges and universities in the US provide student services that are disability-related. Meaning, the student has a place to go to for assistance, in case they need help, advice, or academic adjustments. So, it's important to choose a university based on preference, since disability-related services are available in all universities.
There are, however, universities specifically for students who are Deaf, such as Gallaudet University in Washington D.C; or Landmark College in Vermont that serves students with learning disabilities and attention deficit disorder. Nevertheless, inclusivity is an important aspect in education in the US, therefore investments have been made with regards to that matter. This way, students will feel comfortable and accommodated in each university they decide to attend.
Important Disability Organizations and Scholarships for Students in the US
The United States is one of the most accessible countries in the world for people with disabilities. Organizations, student services, investment in equipment – all these make studying in the US as a disabled student an experience without barriers. It's important, however, that you keep in contact with important organizations for people with disabilities in the US, such as MIUSA (Mobility International USA), and student services in the university you plan to attend, so they can inform you about your rights, opportunities, and more.
MIUSA – Mobility International USA
One of the organizations you should know about while studying in the US as a disabled person is MIUSA, or Mobility International USA. This is a disability-led non-profit organization headquartered in Eugene, Oregon, USA. It aims to advance disability rights and leadership all around the world. As a cross-disability organization, its mission is to empower people with disabilities through international exchange and development. MIUSA provides free advising centers, trainings, as well as online resources in order to create international programs that make the world "more accessible and inclusive for all".
Scholarships for Disabled Students in the US
There is a great number of scholarships for disabled students in the US. Below you will find some of them:
180 Medical College Scholarship Program
This scholarship program is dedicated to awarding five $1,000 scholarships each year to students who have spinal cord injuries, spina bifida, transverse myelitis, or neurogenic bladder. It is awarded to US citizens who are attending an accredited US university of their choice. Candidates must also write a 750-word maximum essay on their goals to overcome difficulties in their life.
1800wheelchair.com Scholarship
1800wheelchair.com awards two $500 scholarships every year to students experiencing mobility issues on a college campus. Those eligible to apply should be high-school seniors or enrolled in their undergraduate studies at an accredited college or university in the United States. Students should also meet the minimum of 3.0 or higher GPA criteria. Also, an essay or poem regarding a specific topic is required to be submitted.
Alice Chavez Pardini Education Advancement Grant
This grant is sponsored by the San Francisco Chapter of the California Council of the Blind. It's given to residents of one of the counties of San Francisco, Alameda, San Mateo, Marin, or Contra Costa in California. A sum of up $2,500 is provided to a legally blind student who demonstrates a need for assistance during their access to education.
DisABLEDperson Inc. Scholarship
DisABLEDperson Inc. hosts a nationally based scholarship competition for a top prize of $2,000 for full-time US college students with mental or physical disabilities. The candidates are required to write an essay of 750 words on a specific topic.
Google Lime Scholarship Program
The non-profit organization Lime Connect, partnered with Google, gives $10,000 scholarships for college students with disabilities, in the field of computer science and technology, aiming to become future leaders. Those eligible to apply should be enrolled in an accredited university full-time, and show strong academic performance. They should also show a strong passion for technology.
List of Scholarships for Students with Disabilities in the US
CAPED General Excellence Scholarship
Cleft Palate Foundation Scholarships
Foundation for Science and Disability Student Award Program
Gabriel's Foundation of Hope Scholarships
Disabled War Veterans Scholarships
Incight Go-Getter Scholarship
John Weir Academic Scholarship
Lilly Reintegration Scholarship
JCS Newhoff Scholarship
Kristofer Robinson Scholarship Fund
Loreen Arbus Focus on Disability Scholarships
Nancy J. Bloch Leadership and Advocacy Scholarship
National MS Society Scholarship Program
Wisconsin Council of the Blind and Visually Impaired Scholarships
Sacks for CF Scholarship
Scholarship for People with Disabilities
Scholarship Trust for the Hearing Impaired
OAR Scholarship Program
The Anne Ford and Allegra Ford Thomas Scholarships