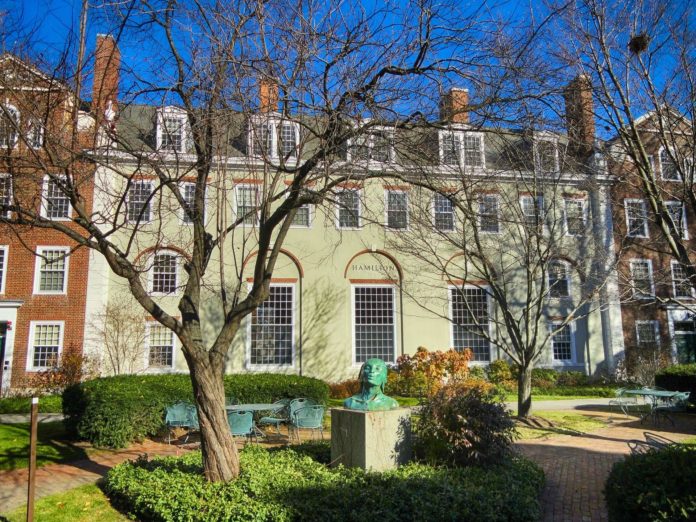 Millions of international students dream of studying or pursuing a higher degree in the United States since, after all, it is the land of opportunity. Among the 50 states of the US, there are more than 5,000 universities available for international students. Furthermore, in America, you can apply to study at some of the 200 top universities in the world. The field of business in the United States is very popular, and most universities offer a business-related degree.
The business degree in America is perceived as one of the most prestigious diplomas you can obtain. This is due to the continuous growth of corporations and the attractive lifestyle of the business world. With a degree in Business, the career options in the United States are endless. Whether you want to work in a big corporation or start your enterprise, the program equips you with the skills to enter a highly competitive industry.
Here is a list of some of the top universities in the USA that specialize in the business field:
1. Harvard University
Harvard University is ranked as the number 1 university in the USA for business school. The majority of the world's population have heard about Harvard University at least once in their lives. The popularity of this university is based on several factors: ambitious scholars, competitive career prospects and salaries, valuable networking events, development of essential leadership and entrepreneurship skills.
The first and main thing Harvard University looks for in the new candidates is an eagerness to cooperate with their colleagues and to develop great analytical skills. Considering the highly demanding and increasingly ambitious environment, applicants must be able to work successfully under pressure and show an eagerness to work with their colleagues.
The admissions team at Harvard University looks for students who are passionate about their careers and have a fruitful past of leadership experience. Although your GRE/GMAT or IELTS/TOEFL scores are crucial to get a seat in one of Harvard's prestigious classes, your personality traits and visions for the future are what will impress the admission officer.
2. Massachusetts Institute of Technology (MIT)
At MIT you can choose to study business at the Sloan School of Management, which holds a reputation for producing highly successful world business leaders. 85% of the business school graduates have used their business degree to further develop their careers, and 95,5% of the alumni have received immediate employment offers after graduating. More to the point, there are currently about 136K MIT alumni worldwide who often get together to discuss their influences in the business industry.
Students of the Sloan School of Management usually call themselves Sloanies and are part of the almost 1,300 enrollments in undergraduate and graduate studies. The faculty at MIT Sloan is composed of business experts, researchers, economics, entrepreneurs, and many other lecturers who are involved in the business department.
If you're hoping to become an MIT Sloanie, the most appreciated part of the extensive application is the video statement. Through this video, you will be able to catch the attention of the admission committee member and create a profound professional relationship with them.
3. Stanford University
A characteristic of the Stanford University application process is that they do not go after the typical evaluation criteria. There is no checkbox you can tick off when you are applying for the MBA program. The only criteria that matter to the admission committee are your ability to truly express your dreams and prospects. With that being said, there are a few skills you need to possess for an advantageous position, such as proof of leadership potential as well as individual attributes and contributions.
The standard MBA program application requirements are as following:
Undergraduate and graduate institutions attendance history
Academic degrees
Transcripts of the courses
Great Point Average (GPA)
Language proficiency evidence
GRE or GMAT scores
Two recommendation letters
The courses at Stanford Graduate School of Business (GSB) are taught through extracurricular activities, open discussions, lectures, workshops, teamwork, project-based learning, and simulations.
4. University of Pennsylvania
The University of Pennsylvania is home to the first-ever American ivy-league business school: The Wharton School. Their alumni community is one of the largest alumni networks in the US. Part of the approximately 90,000 alumni worldwide are CEOs of some of the most profitable companies, including Apple, LinkedIn, and the CEO of an influential marketing company: JD Power and Associates.
The teaching methodology at the Wharton School focuses on encouraging students to come up with ideas, share them with their colleagues and faculty members, and use analysis tactics to transform them into actual working strategies. The students of Wharton are trained and prepared to become huge world leaders in the business industry and are educated towards strengthening the economic impact of the country.
As an undergraduate at Wharton School of Business, you will graduate with a Bachelor of Science in economics. Due to the many areas of study, they choose to call them concentrations that are 18 in total. The Wharton School of Business seeks students with strong leadership skills, sufficient knowledge of mathematics, specifically calculus, as well as a great drive about the business industry.
5. The University of California, Berkeley (UCB)
The University of California consists of the Haas School of Business which offers the Bachelor of Science as an undergraduate degree. Pursuing this degree means you will be prepared with the required skills for the modern business industry and get trained on creating successful professional careers in the future.
After graduating from the Haas School of Business you have the advantage of sharing a location with some of the most famous businesses such as Google and Visa since it is located near San Francisco. This is important due to the possibility of getting employed or winning an internship at either one of these places, which will highly benefit your plans and visions.
Departments of the Haas School of Business are as follows:
Accounting
E-commerce
Economics
Entrepreneurship
Ethics
Finance
General Management
Health Care Administration
International Business
Leadership
6. New York University (NYU)
Located near one of the most historic financial districts in the world "Wall Street", students of the NYU are envied by all students from all nations. With that being said, enrolling at NYU to pursue a degree in business, means that you will live and study on a campus where world-renowned financial, entertainment, fashion brands are right around the corner. If there is one thing you will be happy about, it is the networking events that will mark the start of an exciting business career. There is a large array of business programs to choose from, which is a great advantage if you are not certain of your decision.
At Stern School of Business, you can get a degree in Bachelor of Science and work with successful alumni who will help you towards professional development, be your advisors in job recruitment, and help you connect with employers.
Worth mentioning is the finance program at NYU Stern, the most well-known degree in this university. Finance graduates at Stern School have been employed in important roles such as investment banking, corporate finance, as well as sales and trading.
7. Yale University
Yale University offers a business degree through the School of Management (SOM), where you can get an MBA that was ranked on five highly-reputable newspapers: The Economist, Bloomberg BusinessWeek, Financial Times, Forbes, and U.S. News & World Report. Each of these organizations ranked Yale SOM among the top 21st business schools. The most relevant factors were their acceptance rate, interviews with deans and academic staff, networking, teaching, as well as alumni input.
The acceptance rate at Yale SOM is moderately fair, accepting more than 500 candidates from approximately 2,000 applications. At SOM, students must show encouragement towards understanding the connection between all industries related to business such as firms, NGOs, governments, businesses, influencing greatly on the efficiency of all sectors.